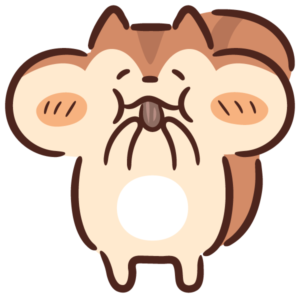 Meaning
"chew chew"
The state of chewing food without opening the mouth widely or chewing with closed mouth.
Sample Sentences
リスがももぐもぐと木の実を食べている。
A squirrel is chewing on some nuts.
目の前でもドーナツをもぐもぐ食べる友達を見てたら、お腹が空いてきた。
Watching my friend munching on a donut in front of me made me hungry.
ちゃんともぐもぐしてからごっくんするのよ。
Be sure to chew your food well and swallow.
Quiz