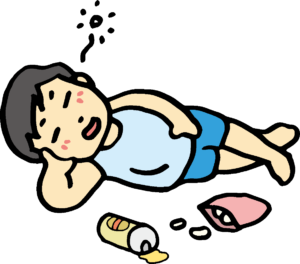 Meaning
① The state of being lazy and slobbering around.
② The state in which liquids such as water and blood ooze out and drip continuously.
Sample Sentences
彼は大学を卒業しても仕事をせず、実家でだらだらとした生活を送っている。
かれは だいがくを そつぎょうしても しごとをせず、じっかで だらだらとした せいかつを おくっている。
He doesn't have a job after graduating from college and is living a lazy life at home.
今日は予定もなかったので、家でだらだらと過ごした。
きょうは よていも なかったので、いえで だらだらと すごした。
I didn't have any plans today, so I lazed around at home the whole day today.
血がだらだらと流れる。
ちが だらだらと ながれる。
Quiz