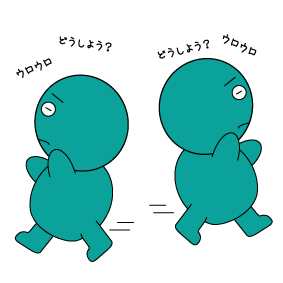 Meaning
To wander around without a certain destination.
Sample Sentences
待ち合わせの時間よりも、早く着いてしまったので、駅周辺をうろうろしていました。
まちあわせの じかんよりも、はやく ついてしまったので、えきしゅうへんを うろうろしていました。
I arrived earlier than the time we were supposed to meet, so I was wandering around the station.
今、ご飯の準備してるんだから、台所をうろうろしないでよ。
いま、ごはんの じゅんびしてるんだから、だいどころを うろうろしないでよ。
I'm preparing dinner now, so don't wander around the kitchen.
怪しい男の人が家のまわりをうろうろしていたので、警察に連絡しました。
あやしい おとこの ひとが いえの まわりを うろうろしていたので、けいさつに れんらくしました。
A suspicious man was wandering around the house, so I called the police.
トイレの場所がわからず、うろうろしていました。
トイレの ばしょが わからず、うろうろしていました。
I didn't know where the bathroom was, so I wandered around.
Quiz