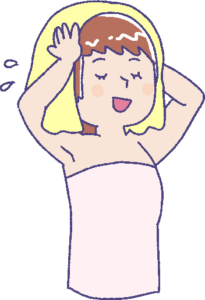 Meaning
① Feeling refreshed and having no stress or uneasiness about other things
② The state of an appearance and clothing being neat and clean.
③ Taste being simple and not too strong
④ Nothing at all.
Sample Sentences
あ〜、暑いし、ベトベトする。シャワーでも浴びて、さっぱりして来よう。
あ〜、あついし、ベトベトする。シャワーでも あびて、さっぱりして こよう。
It's so hot and I feel sticky.  I'll go take a shower and freshen up.
髪短くしたんだね。さっぱりしてていいんじゃない。
かみ みじかくしたんだね。さっぱりしてて いいんじゃない。
You cut your hair short, didn't you? It's nice and refreshing.
夏の暑い日は、さっぱりしたものが食べたくなるね。
なつの あついひは、さっぱりしたものが たべたくなるね。
I want to eat something refreshing on a hot summer day.
彼の言っていることは、さっぱりわからない。
かれの いっていることは、さっぱりわからない。
I have no idea what he's talking about.
Quiz