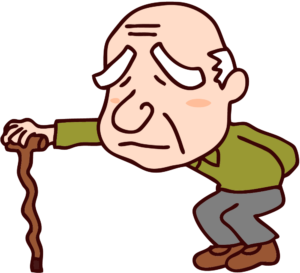 Meaning
A person who has become old and physically decrepit, or appears to lack strength in body and movement.
Sample Sentences
歳をとって、ヨボヨボになるのが嫌なので、できるだけ普段から体を鍛えるようにしています。
としをとって、ヨボヨボになるのが いやなので、できるだけ ふだんから からだを きたえるようにしています。
I usually try to work out as much as possible because I don't want to grow old and become weak.
ヨボヨボのおじいさんが危なげに道を歩いている。
ヨボヨボの おじいさんが あぶなげに みちを あるいている。
A weak old man is walking down the street, looking very unsteady.
Quiz