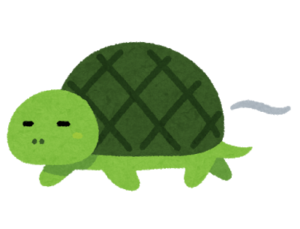 Meaning
Indicates that movement is very slow. Used as a negative meaning.
Sample Sentences
前の車がノロノロ走っているせいで、予定の時間に遅れそうだ。
まえの くるまが ノロノロ はしっているせいで、よていの じかんに おくれそうだ。
The car in front of me is driving too slowly and I'm going to be late for my appointment.
同僚はいつも作業がノロノロで、見ているとイライラする。
どうりょうは いつも さぎょうが ノロノロで、みていると イライラする。
My co-workers are always working so slowly that I feel annoyed when I see them.
Quiz